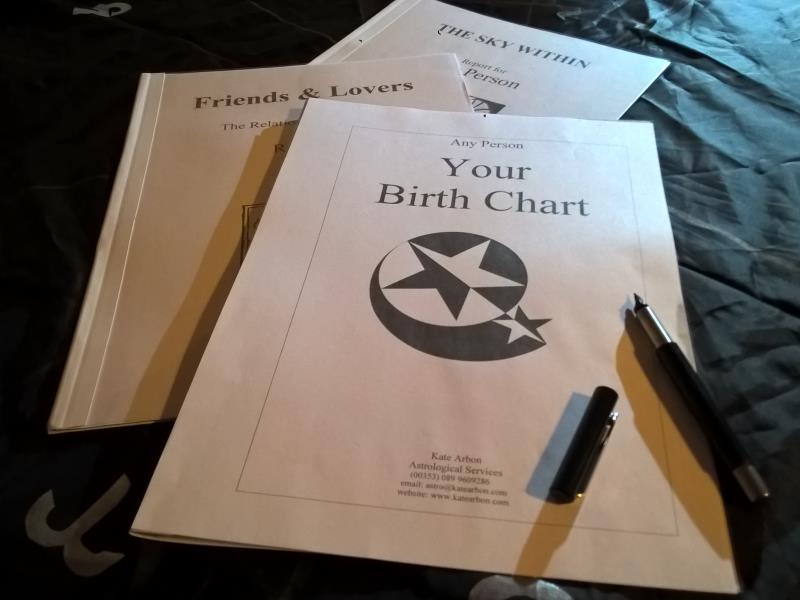 If you are new to Astrology a written report is a great introduction to your birth chart or your relationship. If you want a ready close to hand reference to your year ahead, get yourself a forecast report.
A printed astrological profile makes a unique gift for someone.
A written report is an ideal alternative if you don't want a one to one reading. Each report is very detailed and calculated with your personal birth details. It will give you valuable insights into yourself or another significant person.
Written by world-famous and well-respected astrologers. These computer-generated reports can be sent directly to your inbox as an email attachment.
To receive a report written personally by me get in touch to discuss the total cost on an individual basis.
Birth chart reports
Show More
Your Horoscope. This is a basic report of about 10 -14 pages which provides a detailed description of all the major areas in your personal horoscope and is a great introduction if you don't want a one to one reading. Each of the major planets is included. The houses, midheaven and ascendant, elements, qualities and node placements are all described. €20
The Sky Within This is an inspiring, comprehensive and beautifully written astrological interpretation by well-known author and astrologer, Steven Forrest. It examines the natal chart as a spiritual guide and takes you on a personal soul journey into your inner life. A beautifully simple and fluid report complete with the essential themes of planets, ascendant, and nodes by sign and house together with additional areas of heightened planetary activity. Highly recommended if you are seeking spiritual reassurance and guidance for personal integration. A Sky Within report is a rewarding experience. This report is by far the easiest natal report to read and averages about 16 pages. €25
Child Star. Explores your child's astrological portrait. The Child*Star report is a personal horoscope written specifically for parents who want to understand their child through an astrological viewpoint. This report shows the astrological outlook and potential of the selected child. You'll read about your child's special skills and his or her relationship with you. It describes your child's world – family, educational inclinations, and emerging identity. Parents will be able to focus on their child's positive qualities as well as their challenging character traits. By spotting both talents and possible challenges in advance, parents can help their children lead fulfilling lives. Child*Star is perfect for newborns, but just as suitable for the young teen in your family. Many people also want this report for themselves to learn about their own "inner child." €25
Forecast reports
Show More
Solar Return. A Birthday special which describes your year ahead. The exact time of one's solar return is a sacred annual event for each individual. It happens at only one specific moment each year. It is at that moment – and only that moment – in which the Earth/Sun relationship is exactly the same as when you were born. This is the basis for a horoscope that will describe the astrological factors in effect for a one-year cycle from the date of the solar return. The report includes interpretations based on the solar return chart and indicates the specific themes and issues in effect for any given year of your life. The second part of the program forecasts significant dates in effect for the year, based on the innovative prediction methods outlined in Ray Merriman's book, Solar Return Book of Prediction. You get a thorough report on what to expect in the next year and exactly when. There's nothing like it! €25
Sky Log. This report combines both transits and progressions into an extremely useful reference, describing the relationship between your own birth chart and the current motion of the planets. Each report is divided into three sections: The Invitation, The Means, and The Details. The comprehensive SkyLog forecast doesn't leave much out! Each of these sections is organized chronologically rather than by planet making the report flow more logical, intuitive and practical for the reader to use. You can look at your life ahead as a coming set of possible events, each one following the other – the kind of thing a calendar does for you. Or, you can look at what's coming as an evolution, a personal tapestry whose threads weave the patterns.
Reports calculated for 6 months €20 or 12 months €30 Dated from the beginning of any calendar month.
Relationship reports
Show More
Friends & Lovers. This relationship Report maybe a little too close for comfort! This 18-25 page report takes the birth dates of two individuals' and explores the meaning of the astrological relationships between them. You actually get two personal horoscopes, compared in detail. Reports can be created in either romantic or platonic-styled text. With this report you can take a fascinating new look at your family and friendships… and your business contacts, too! Solar Return Predictive Horoscope. Use the time-honoured solar return method to peek into your future! The perfect birthday present for any astrology minded person. €25
Personally written reports
Show More
If you would like a birth chart report written personally by me get in touch to get a quote. Personally written reports are priced on the time they take to compose which can be anything from several hours of work to several days depending on what you require. Due to the time required to write a full astrological profile and analysis I am not always available to undertake this work so be prepared to wait.
If you do want me to go ahead with a written report I can focus on a specific area of interest. You can expect to pay a minimum of €240 for a focused report of about 1500 words or 4-5 pages.
For example:
Saturn, doing the work
Pluto's deep undercurrents
Authenticity & Uranus
Relationship potentials
Creativity & self-expression
Career or vocation potential
How to order
Show More
You can select the report you want and pay in the shop. I need to have your birth details date, place, time, to prepare your report. If you don't know your time of birth these reports cannot be calculated with the exception of the "Your Horoscope" This can be calculated for just the date of birth but several of the sections of the description will be missing. Add the details to the message option when you pay or send a message via the contact form.
I attend to each order personally. This is not an automated service. I usually try to have your report prepared and emailed within 48 hours of receiving confirmation of your payment. Often sooner! Unfortunately, delays can sometimes occur. Unexpected or unavoidable circumstances can disrupt daily schedules. Astrologers are also known to take an occasional holiday break! An email message will be sent to advise you of any exceptional delays so you can choose to wait or to cancel your order.